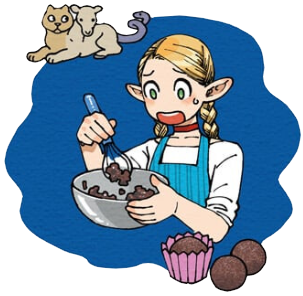 welcome to the kitchen!
this is where i keep my notes, ideas and other food-related escapades.
some of my particulars include:
putting sugar in savory dishes
probably more garlic than the recipe calls for
go tos are basil, paprika, soy sauce
at least one more type of spice than really necessary (working on this)
if that doesn't sound too bad, feel free to peruse the recipes collected here. with the help of a very rudimentary tagging system, you can use ctrl+f to seek out specific things, such as spicy or sweet dishes. the graphic is by ryoko kui, whose work inspired this page.
recipes
chicken tarragon soup savory
everyone loves a good cream soup. every recipe mentions it but i've never once had this with lemon juice in it
olivier salad savory
not particularly mind-blowing after having french salad (the meat- and pickle-free version of this) as a staple dish for most of my life, but still pretty good. if you want to never eat again, take a look at the original recipe.
pumpkin pie sweet
'tis the season. the effort to results ratio is wild on this one.
tofu & broccoli in honey garlic sauce savorysweet
very cozy and warming!! adjusted* for allergies and availability.
cottage pie savory
don't like how this turned out; the celery sticks you get around here are way too tough and strongly flavored. more tomato paste + carrot + sauce next time.
spinach puffs savory
enjoyed by even the most staunch spinach-haters in my household.
pumpkin & herring pie savorysweet
got curious about it after rewatching kiki. not really flavors i'm used to, i think it was good?
rainy day beef bowl savoryspicy
looking forward to the colder season just to eat this again.
chili spicysavory
not gonna reinvent the wheel here, but my favorite is with diced turkey, bacon and a bit of cinnamon.
french onion soup savory
first try turned out weirdly sour, as if it had tomatoes in there. will have to experiment more. also, anyone who tells you to caramellize the onions over low heat doesn't have your best interests at heart. EDIT 21/08/17: gave some to grandma and she said it was good nvm
shakshouka quickspicysavory
easy to adapt. my lazy version uses vienna sausage with lots of cumin and basil. initially made it because hehe raid food, but it's really good.
pumpkin rolls savory
an autumn favorite.
mexican hot chocolate sweetspicy
made after my favorite café took it off the menu. i don't have a blender, so i just strain out anything that doesn't dissolve instead of the whole song and dance.